Last weekend me and my gal caught the Brice Marden Restrospective, his first major one in a museum, at the San Francisco Museum of Modern Art
I thoroughly reccommend it, and it was a real treat to see the progression of his work. It certainly makes sense in this way. I have always thought it better to show an artists work chronologically than to group it together by time or location. Certainly in our early days as artists we are influenced by each other, but at a certain point we get into our own concerns and play out our explorations according to our own interests and passions.
Marden's real medium is light. His content is actually all about the act of observing. He emptied his early canvases of all images, used only shades of grays and blacks, and created light absorbing matte surfaces.
He would obsessively build up the surfaces of his grids and squares with graphite or charcoal and beeswax on paper (below) or ink.
One might look at one of his early grey paintings and think its just a canvas waiting for an image. But actually thats all there is. However there is something that happens in the eye and in the mind of the viewer when gazing into one of these pictures, a sense of space, and a calm, zen-like awareness of our own looking and searching happens. Its a reflexive experience.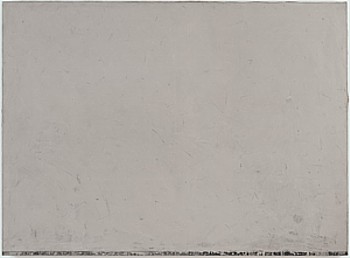 He continued into a series of grouping colored square and rectangle canvases together, to later introduce color.
He then got a commission to design some, (lo and behold!), stained glass windows for a church in Europe, due to his reputation as an explorer of the principles of light
He experimented with black paint on glass, and although the church commission never came to fruition, his new engagement with light coming through glass, and paint laden brush changed his direction dramatically.
(This is something every glass painter or lover of the Gothic windows can attest to as well.)
This new organic energy was also inspired by Asian calligraphy and the action paintings of Jackson Pollock.
He would often draw these with a long stick, standing seven feet away from the paper. This gave a certain chance effect and circumnavigated his considered brush control.

I am particulary fond of his work from this period, moreso than the others.
It is this period of engagement with Asian art and poetry, that I saw so much of during my own NY years going to his shows, that I think is his most free.
Eventually this loose brush work resolved itself into tighter linear pathways of color that interlock.
He keyed up the colors too.
(These work always sort of reminds me of a subway map of downtown NYC.)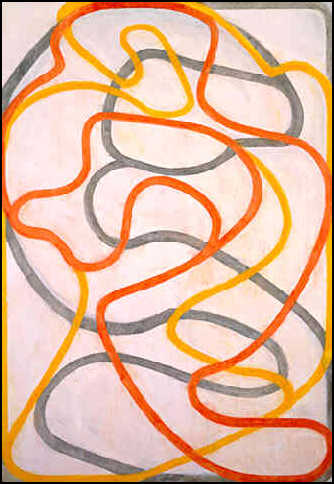 All in all, it was an excellent (albeit small but representative) showing of a 40+year careers worth of work by a major American artist, and a beautiful exploration of Light in art, something that is itself always of interest and delight in my appreciation.